Two weeks today, on October 14th, is the anniversary of the mass conversions in India when in 1956 Dr. Ambedkar converted to Buddhism along with over 400,000 of his followers – perhaps the greatest mass conversion the world has ever seen. Every year on this day in Nagpur up to a million people gather: it's a remarkable occasion as the photograph opposite amply demonstrates.
The FWBO has had strong links with the Ambedkarite movement in India since it was formed. Firstly, Dr Ambedkar consulted with Sangharakshita prior to his conversion, and when Dr Ambedkar died only 6 weeks afterwards Bhante stepped into the breach by consoling Ambedkar's bereft followers in the newly formed movement.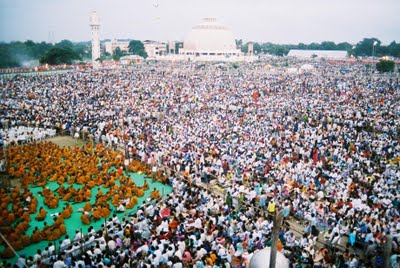 In celebration of this we'll be exploring its significance through a number of articles on FWBO News, starting with two resource packs recently produced by the FWBO's fundraising charity the Karuna Trust www.karuna.org .
The first gives a general overview of who Dr. Ambedkar was and his significance both in India and the West. It includes advice on organising an Ambedkar Day event and (on the last page) a list of resources for further study – including a link to download the English-language version of the movie 'Ambedkar', which is a brilliant account of his life and struggles.  It's downloadable here.
The second is a visual introduction to some of Karuna's work in India and is downloadable here.
Karuna was formed nearly 30 years ago in response to the suffering of the Dalit (ex-untouchable) community, and today sends well over £1 million per year to a wide variety of projects in South Asia.
The majority of fundraising is generated by volunteer fundraisers who sign up individual supporters during 6-week door-to-door fundraising appeals: as a result, it has over 7,000 regular supporters!
Karuna have asked us to draw readers' attention to a list of ways people can contribute to their work –
• Join a 6-week Karuna door-to-door Appeal in 2010 – Signing up new supporters on the doors raising funds to support projects in South Asia
• Participate in a Phone Campaign – Phoning existing supporters to communicate the benefits of Karuna's work in South Asia with a view to them increasing their regular donation
• Join the Karuna Fundraising Community House – live, eat and breath fundraising with others in community for a whole year!