Pradnya Jadhav
Dalit women's battle to survive with dignity and security is extremely challenging. Dalit Mahila Swabhiman Yatra has been initiated by All India Dalit Mahila Adhikar Manch (AIDMAM) as an attempt to bring to the notice the realities of Dalit women; it is a quest for justice. It is a broad set of coordinated actions against caste-based sexual violence. We confront perpetrators, stage mass protests and expose the culture of impunity perpetuated by individuals and social institutions. The violence against Dalit women involves not only perpetrators from upper caste communities but also practices of state institutions at large whose justice and support system have failed. The Dalit Mahila Swabhiman Yatra has been actively engaged in interacting at multiple levels to address this state of affairs. This article is an account of the process of Dalit Mahila Swabhiman Yatra and an event organized at Hyderabad Central University and English and Foreign Languages University where we reported back on the Yatra.
The first phase of Dalit Mahila Swabhiman Yatra was organized in February 2014 and covered various districts in Haryana, Bihar and Orissa. We emphasized on the silence around the issues of Dalit women who have been under constant threats and are facing physical, sexual and mental assaults, who are being victimized by the dominant caste Hindu forces who violate their rights to access resources and snatch away their opportunities and means to survive.
In the second phase of Dalit Mahila Swabhiman Yatra in Madhya Pradesh and Bihar, identifying and building leadership from the grassroots to the national level was focused upon. The overall aim of the Yatra is to involve multiple stakeholders who envision a caste free and gender-just society, addressing the local level issues of our communities and also challenging the culture of impunity. The Yatra focuses on establishing the linkages between the state of violence and larger level community assertions for land, resources including political power. In many cases, violence is a backlash against these assertions. The Yatra has been in interaction with Communities to learn and unlearn the process of Movement Building. The journey of Dalit Mahila Swabhiman Yatra so far has been extremely demanding.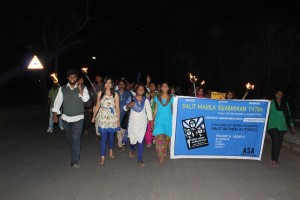 On 11th March 2015, a program on 'Caste and Patriarchy: Narratives of Dalit Women' was organized in Hyderabad Central University (HCU) by the Centre for the Study of Social Exclusion and Inclusive Policy (CSSEIP), School of Social Sciences. The activists of Dalit Mahila Swabhiman Yatra – Pradnya, Rajeshwar Paswan, Sushma Kumari and Rajni Jyoti – spoke about the inception of Dalit Mahila Swabhiman Yatra, our involvement, and experiences in a session called 'Narratives of Dalit Women and Survivors of Caste-based Gender violence'.
We said that participating in this struggle was never easy; our involvement comes from our own lived realities of witnessing and encountering the brutal caste realities in our village, in our schools, colleges, and in every other institution that we are part of. Most often we are seen as victims, we are portrayed that way in our educational curriculum, in media but our assertions have never been taken into serious consideration except for branding them as outrageous, emotionally driven, irrational and violent. In fact, our assertions have provoked the caste Hindu forces to attack women in our communities, because our assertion is a threat to their existence. Our assertion to take lead of our struggles is also important, as outsiders can never understand our issues the way we do, and through this platform we have been able to organize and learn-unlearn ways of dealing with it.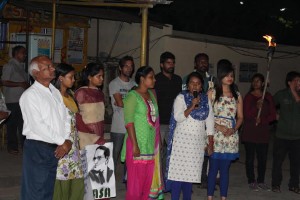 We participated in a rally followed by a deeply engaging interactive session with the student community which was organized by the Ambedkar Student's Association. We chanted slogans for Equality, sang songs of Protest, and paid respect to our inspirations Dr. Babasaheb Ambedkar, Savitrimai Phule, Periyar, Shahu Maharaj, and Mahatma Phule. Through this gathering we responded to the questions of the students about the goals of the Dalit Movement, and the understanding of Emancipation of Dalits and Adivasis, about the categorization of Dalits and about restricting our struggle to the aspect of violence. We said that the ultimate goal of Yatra is to have a caste and gender-just society.
There cannot be an end point for the emancipation of Dalits, Adivasis or marginalized communities, as the word emancipation can be interpreted in several ways and cannot be generalized. Even if the constitutional laws are strictly implemented, it will be too naive to say that the casteist and patriarchal mindset would also change. It will probably take discrimination against Dalits, Adivasis and the marginalized to a more advanced form. Babasaheb himself had said that if the constitution fails to give justice to people, my people shall destroy it.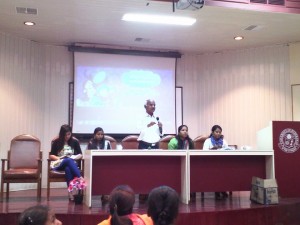 We can never restrict ourselves to the violence against Dalit women alone, and for that we need to revisit the word 'violence', and how it is defined by different people based on their experience. We said that for us it is not merely physical violence that is more visible, but also multi-layered violence. It is violence when we are not allowed to go out of the village for education, it is violence when we are discriminated against for availing resources, and it is violence when we have to encounter mental and verbal abuse.
On 12th March 2015, another program was organized in English and Foreign Language University (EFLU) by the 'Department of Social Exclusion studies', called 'From Silence to Assertion: From Victimhood to Power'. In this program the AIDMAM activists shared about the multiple forms of discrimination, violence against Dalit women, and our understanding of the issues of our community and in particular, of women, the nature of response that we receive from the state and the justice delivery system, and the high Level of impunity in matters pertaining to Dalit women. We shared about the threats around us. Being women and Dalit activists, we are always at risk. We are safe "nowhere".
The programs organized at both the Universities were powerful and generated intense discussions which will help us grow, reflect and nurture our movement.
We would like to acknowledge the support of our friends at Hyderabad, mainly Kuffir, Karthik Navayan, Round Table India and Ambedkarite Students at the respective universities who helped us in organizing these events.
~~~
Pradnya Jadhav is a freelance researcher, working with Dalit and NT/DNT women. My interests are reading, writing and reflecting.